Reports: Cardinals sign Lance Lynn to one-year contract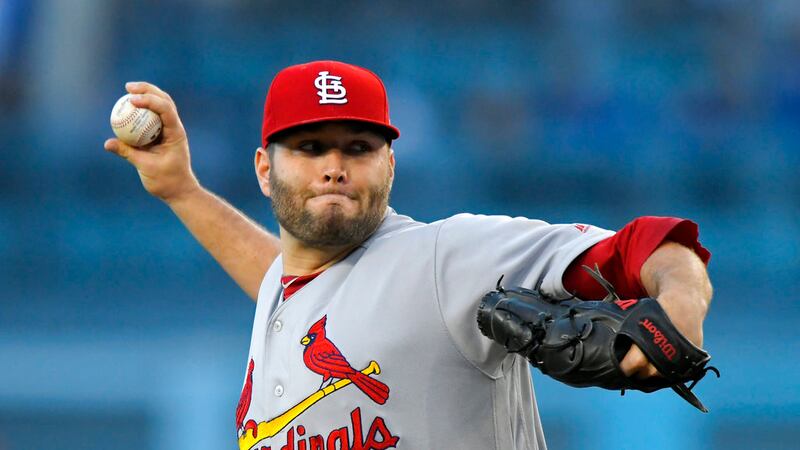 Published: Nov. 20, 2023 at 11:46 AM CST
ST. LOUIS (KMOV) - With the first major domino in the free-agent starting pitching market falling on Sunday as Aaron Nola returned to the Phillies, it was only a matter of time before the spending spree ramped up across the rest of the league.
The Cardinals jumped into the frenzy with their first notable move on the offseason on Monday, reportedly signing an old friend to a one-year contract.
Multiple outlets reported Monday morning that the Cardinals are in agreement with Lance Lynn on a one-year deal worth in the neighborhood of $10 million in guarantees. According to ESPN's Jeff Passan, the deal also includes a club option on the 36-year-old right-hander.
The team has not yet announced the deal.
Lynn began the 2023 season with the White Sox, struggling to a 6.47 ERA in 21 starts amid the dysfunction in the Chicago organization. At the trade deadline, the Dodgers picked up Lynn to bolster an ailing rotation. The burly veteran answered the bell, logging a 4.36 ERA in 11 starts down the stretch of the season.
Perhaps more meaningfully for a Cardinal staff desperate to replace several pitchers from last year's team, Lynn was reliable in taking the ball in 2023, logging 183.2 innings while striking out 191 batters.
This deal reflects a reunion for the Cardinals and Lynn as St. Louis selected the Ole Miss product 38th overall in the 2008 MLB Draft. Lynn debuted with St. Louis in 2011 and remained with the Cardinals through the 2017 season.
Lynn made stops in Minnesota, New York, Texas, Chicago and Los Angeles before now finding his way back to the Cardinals as part of a rebuilt pitching rotation for 2024. While Lynn is the first name secured by the Cardinals in this pivotal offseason for the team, he certainly should not be the last.
St. Louis must overhaul the pitching staff following the departures of Adam Wainwright, Jordan Montgomery, Jack Flaherty, Chris Stratton, Jordan Hicks, Drew VerHagen, Dakota Hudson and Jake Woodford over the past few months. The group combined to log more than 600 innings for last year's team, so it's clear that the Cardinals' President of Baseball Operations, John Mozeliak, and his staff have plenty of work left to do in the days and weeks ahead.
Copyright 2023 KMOV. All rights reserved.